Company Background
Go Green Lawn Care MN specializes in the ongoing health and beauty of lawns in Delano, Maple Grove, Plymouth, and the greater Minneapolis area. We have been working with lawns for almost two decades and we love doing it. In fact, passion about lawns is a requirement of each of the lawn care technicians that we hire which makes our lawn service even better.
The Go Green Difference
We believe that every lawn needs ongoing nutrients to keep it healthy and looking its best, and we can do this while being cognizant of your health and the environment. Several years of experience mixed with great products has allowed us to give you a great lawn!
---
Affiliations

Better Business Bureau (BBB)
BBB maintains Business Reviews on more than 4.5 million businesses and rates them based on complaint histories, responsiveness to customers, licensing, legal and government action, and other factors. Only Accredited Businesses that meet the BBB Code of Business Practices are permitted to display the BBB logo in their marketing and place of business.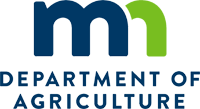 Minnesota Department of Agriculture (MDA)
The MDA's mission is to enhance Minnesotans' quality of life by ensuring the integrity of the food supply, the health of the environment, and the strength of the agricultural economy.
Licensed, Bonded & Insured